Official
MySpace Shurik'N
Official
MySpace IAM
Official
MySpace Akhenaton
Official
MySpace COSTA TV
Official
WebSite IAM
~~~~~~~~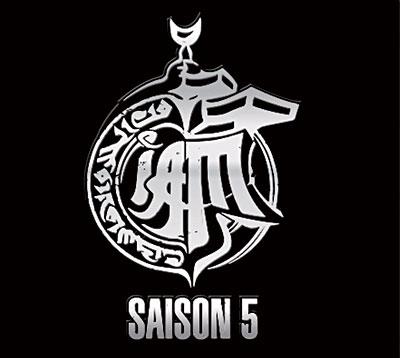 1 W.W
2 Une autre brique
3 Hip Hop ville
4 Tu le sais
5 Offishall
6 Nos heures de gloire
7 Ca vient de la rue
8 To the world feat Jehro
9 Le style de l'homme libre
10 Rap de droite
11 Il en faut peu
12 Si tu m'aimais
13 Sur les remparts
14 Rien de personnel
15 Coupe le cake
16 Au quartier
17 United
Bonus
1 Titres audio inédits : C.V.
2 Titres audio inédits : La ligue
3 Videoclip+ Making of Une autre Brique
4 Teasers Making of Siaison 5 - L'album (6 épisodes)
5 Interstice La ligue
~~~
Pour leur très attendu 5ème album solo, IAM frappe fort avec ces 17 titres produits par Imothep, Akhenaton, Shurik'n, Akos et DJ Spank (F.B.I). Les 2 premiers singles : "Une Autre Brique" et "Ca Vient De La Rue" ont déjà reçu un accueil exceptionnel ! Voici donc un album évènement, des tubes imparables et des productions qui n'ont rien à envier à leurs équivalents Américains. Un grand IAM qui ne fera que confirmer leur statut d'empereurs du rap français !!!
~~~

~~~~
Vidéo | Ca Vient De La Rue
~~~~
[Vidéo Accessible Aux Membres]

~~~~~~
Alors je ne l'ai pas encore écouté et je l'attends avec une très grande impatience.
[Get Connected]
[Code For : Forum | WebSite | MySpace | Blog]
Code:

<embed src="http://widget-92.slide.com/widgets/slideticker.swf" type="application/x-shockwave-flash" quality="high" scale="noscale" salign="l" wmode="transparent" flashvars="cy=un&il=1&channel=288230376159273618&site=widget-92.slide.com" name="flashticker" align="middle"></embed>

_________________
Tenue Correcte Exigée
Staff MATCHSTICK LLC